Flavor of Salt, Flavor of the Sea ...
Marepineta Camping Paestum overlooks the sea and has a large private equipped beach reserved for its guests with direct access from the campsite: the TOP for sun, sea and tan fans!
Shallow and safe waters, golden sand and many opportunities for fun and entertainment under the Cilento sun: your holiday starts here!
The best of relaxation in our camping in Capaccio Paestum with private beach: linger during the hot summer days under an umbrella and dedicate to sunbathing, cool off with a nice bath in the waters, for several years, blue flag and then give in to the temptation of a pleasant refreshment stop at the bar, with aperitifs, sweet and savory snacks, quick lunches, thirst-quenching drinks and ice cream for all tastes.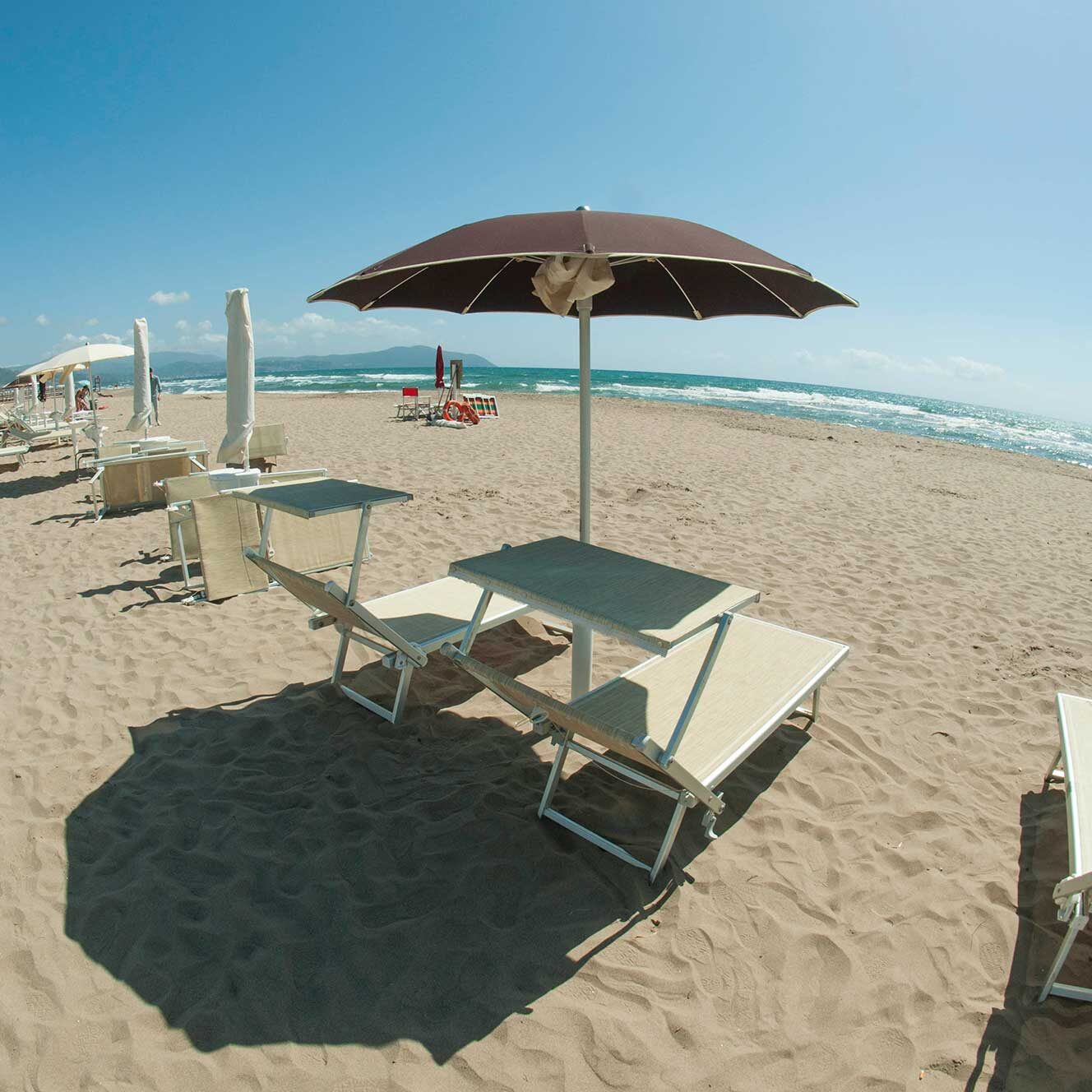 The private beach is equipped with games for children and beach soccer, beach tennis and beach volleyball courts, and offers many activities to practice on the beach or in the water, in the splendid Mediterranean Sea, with its shallow and sandy bottoms, which are also safe. for the bathing of the little ones.
No problem even for the do-it-yourself holiday purists, who can go to the free beach reserved for the campsite to enjoy the sea in complete autonomy using their own equipment.

Eccellente
Relax nella natura ☺Il modulo abitativo era nuovissimo e spazioso, il personale cortese e luogo fantastico, con servizi, mare, pineta, fiumi e vicinanza all'area archeologica ☹È perfetto così.

Very Good

Awesome
☺i proprietari molto gentili e attenti ☹.... tutto bello

☺L'approccio familiare, la disponibilità è la volontà dei due fratelli di venire sempre incontro alle personali esigenze. ☹Ampi spazi sotto una pineta dolcemente ombreggiata con grandi possibilità di essere ulteriormente sviluppati

☺La pulizia della casa. La disponibilità della struttura. La vicinanza al mare

☺Lo staff numero 1👍... Casetta bellissima😍... Vacanze perfette🎉... Semplicemente un posto meraviglioso per i ricordi indimenticabili🤩... Grazie dal ♥️ e tanti saluti 😘😘😘

Se l'alloggio fosse stato di migliore qualità sarei stato in un paradiso. ☺La posizione ravvicinata al mare, una spiaggia pulita ed ampia ed una pineta profumata e favolosa rende il Camping eccezionale. ☹La pulizia della casetta, da me scelta in fase di prenotazione, lasciava molto a desiderare nonostante il doppio intervento da parte del personale addetto alle pulizie. Dispiaciutissimo per l'enorme invasione di formiche all'interno ed in ogni stanza provenienti dal tetto probabilmente in legno ormai invecchiato dagli anni e dalle possibili infiltrazioni di acqua nel periodo invernale e piovoso.

Soggiorno rilassante ☺Il posto era molto tranquillo e rilassante La casa mobile molto carina e lo staff cordiale ☹Meno insetti